Cannons Rv Repair Providing Mobile Rv Repair in Vancouver Wa since 2009 If you are in need of Rv Repair than look no further. We can get the job done! Any Rv Repair job Big or small we do them all.
We are a Mobile Rv Repair company. We come to you, and in some cases we have the customer come to us. We Can accommodate whatever your Rv Repair needs may be.
Whether it be a custom job, or a simple 30 minute job. We handle all Mobile Rv Repair jobs as if it were our personal Rv. Our Technicians are friendly and multi -talented. You will find that there is not much we don't do, asside from working on engines. We do it all Rv Repair
There is a 1 hour minimum when having us perform Rv Repair or Services on your motorhome, With free estimates over the phone. Some jobs are set at a fixed price. A Service call applies to every job and is waived if the job exceeds 3 hours. Our repeat customers enjoy the benefits of no Service call after the third time you Have us Repair Your RV ! This is a lifetime membership once you accomplish this and it's free!
At CANNONS  RV REPAIR. Our customers enjoy competitive pricing when they purchase there RV PARTS from us. We will match or beat any competitors advertised price! Our goal is to make RV'ing Fun and affordable for you.
RV Repair services we Provide
– Rv Appliance we Repair include Rv Furnace Repair / Rv Water Heater Repair / Rv Refrigerator Repair Norcold & Dometic & Rv Air Conditioners.
RV Accessories – Are you Wanting to upgrade your Rv With some new Accessories? We can help you do that just let us know what it is you want to do.
RV Refrigerator Repair Is your Rv's Refrigerator on the frits? We can help you get it fixed.
RV Stove & Ovens Repair – A lot of Rv Owner have never been properly trained on how to properly use the Stove top or the Oven We can Repair and Teach you how to use it.
RV Air Conditioner Repair – We will Diagnose the problem and save you money where others will just replace it due to inexperience. The Capacitor is the number one thing AC units need repaired.
RV Leveling Jacks & Systems Repair – We Excel where others dwell. Let us Repair your Leveling system problems.
RV Furnace Repair – We Service & Repair Atwood and Suburban Rv Furnaces.
RV Water Heater Repair – We Service Atwood Water heater and Suburban Water Heaters.
RV Plumbing Repair – We Repair All Rv Pluming problems from leaks to updates we have you covered. Frozen pipes give us a call we can fix that to.
RV Electrical System 12volts/110volts REPAIR / Installation /Service
RV Pre Purchase Inspections –
RV Pre Travel Inspection – Know before you go on your Trip, We can perform a complete Rv Travel inspection. Making sure you and your family will be safe.
RV Winterization – We highly recommend winterizing your Rv We do over 250 Rv's every Fall. That is alot of Antifreeze.
RV Roof Reseal – We perform Several Rv Roof Reseals and Replacements each and every year, With People coming to us all across the country due to the quality of our work and the guarantee.
RV Entry Step Repair – We provide Service and repair to all Rv Entry Steps Sometimes they Just need the gear box greased. Other shops just throw parts at it till its fixed. Not us.
RV Slide Out Repair – We perform Slide out repair on all makes of motorhomes. whether it be an adjustment to line it up or replacing a roll pin we can get the job done.
RV Roof Vents – We repair and replace all Rv Roof Vents average Labor of just one hour to R&R most vents.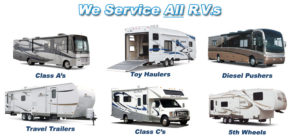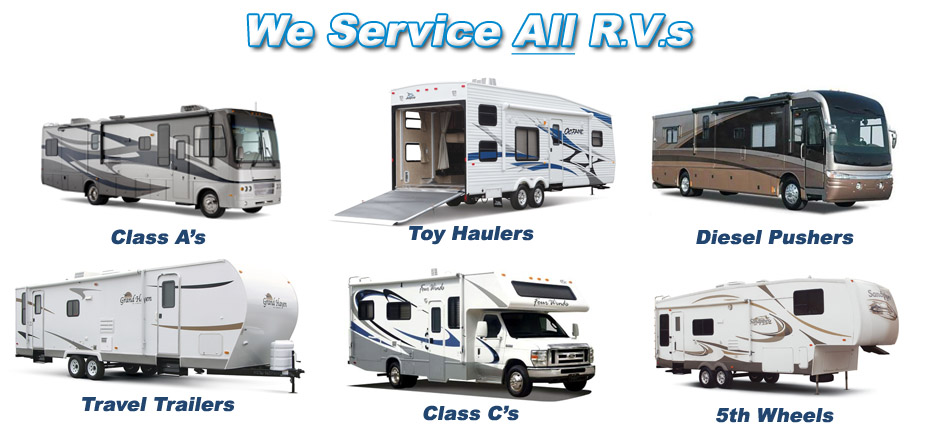 .